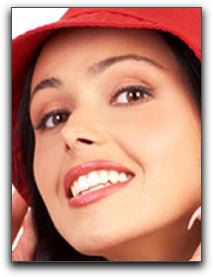 Many California dental patients have experienced a boost in self-confidence by undergoing restorative or cosmetic dentistry at King Dental Group in Santa Barbara. I'm Dr. Jon King of King Dental Group. Nothing gives me more satisfaction than helping Santa Barbara dentistry patients dramatically improve their smile and overall well-being with the latest tooth restoration procedures to correct dental problems and imperfections.
I enjoy consulting with my Goleta, Montecito, and Santa Maria cosmetic dentistry patients to create personalized California smile makeover treatment plans. At King Dental Group, the treatment plan may include tooth bonding, porcelain veneers, or dental implants.
For Santa Barbara dental patients with old or damaged crowns, we can provide beautiful new crowns. Tooth-colored dental fillings are popular for our California cosmetic dentistry patients who are happy to be free of unsightly old silver fillings. It is important to be examined by your Santa Barbara dentist regularly to check your previous dental work, including fillings, tooth bonding, veneers, crowns and bridges.
At King Dental Group, we can tailor a cosmetic or restorative dental treatment plan to fit your budget. Santa Barbara tooth whitening is a surprisingly affordable way to attain a mega-watt smile without spending a lot.
Restorative and cosmetic dentistry can relieve pain, correct bite issues, and prevent future problems. A smile makeover is an investment in yourself that you will enjoy every day. If you have ever wondered what unprecedented cosmetic dentistry can do for you, or have some dental troubles, call King Dental Group at 805-687-1548 to schedule a thorough exam, deep dental cleaning, or consultation.
The world always looks brighter from behind a smile.