Dentures
All-on-4 Denture Implants in Santa Barbara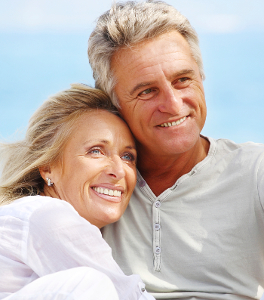 Have you lost a number of teeth and wish that you could get your smile back? Have your missing teeth made you feel more self conscious in social situations?
At King Dental Group, we care about each and every one of our patients in the Santa Barbara area, from Montecito to Goleta. If you are suffering from the consequences of tooth loss, we can help. One of the best options for those who have lost many (or all ) of their teeth are dentures.
We offer a number of different denture services that can help patients with tooth loss get their smiles back.
Our denture options for our patients include:
High-end Custom Dentures | We offer high-end custom dentures that are made to fit and function just right for each patient. We feel it is important to provide high quality dentures, because they ensure that you have a more comfortable, more functional, and more beautiful smile. Our dentures can be made as a partial denture or a complete denture depending upon your situation.
Implant Supported Dentures | Implant supported dentures use dental implants to provide solid anchor points for a permanent denture solution. Denture implants are inserted into your jaw, and act like tooth roots. These denture implants then provide an anchor point for a permanent denture that will act and look like natural teeth. Implant supported dentures are a wonderful way to restore your smile, and have some great advantages. Because your dentures are anchored with implants, you will never have to worry about slippage, clicking, or your dentures coming out.
All on 4 Dentures | All on 4 dentures are implant supported dentures with an added benefit; All on 4 dentures make it so that you can have implant supported dentures placed and ready to use in as little as just twenty four hours!
Whichever form of denture you choose as your way to get your smile back, our skilled team is ready to assist you if you are in Santa Barbara, Montecito, or Goleta. If you have any questions about the denture options we have available, please call us today!