Invisalign Clear Braces
Get Straight Teeth With Invisalign in Santa Barbara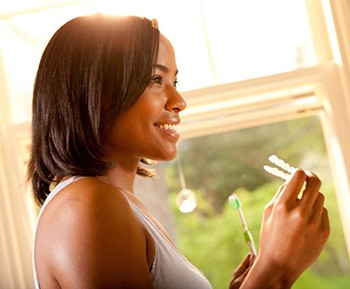 Have you ever wanted to have a straighter and more beautiful smile, but have been concerned about getting traditional braces? You aren't alone. People who have wanted straighter smiles without the hassle of the wires and brackets associated with traditional braces have been limited on their options in the past.
Now using modern dental technology, there is a solution for those who are looking to obtain a gorgeous, straight smile without the use of traditional braces. Invisalign is a clear braces system that doesn't use wires or brackets, but still helps patients achieve the straight teeth they have always wanted.
Using Invisalign clear braces to straighten teeth has a number of advantages:
Faster | With Invisalign clear braces, you can have a beautiful straight teeth faster than most traditional braces. Invisalign can help you straighten your smile in as little time as nine months to a year!
Convenience | Invisalign uses clear, removable plastic trays to straighten your teeth. This means that you can eat the foods you like when you want to, and that you can keep taking care of your teeth as usual. Traditional braces can make it difficult to floss and brush normally, but not Invisalign! With Invisalign you can keep maintaining good oral health.
Comfort | Every single set of Invisalign clear braces are custom-made to fit your mouth. This helps ensure that your teeth are being straightened more effectively, and more comfortably too.
Appearance | Invisalign is a clear braces system, so you don't have to worry about people noticing your braces. This means you can wear Invisalign and not be concerned about the awkward social situations that are usually associated with traditional orthodontic treatments.
We are proud to offer Invisalign as an orthodontic option to our patients who want to straighten their smiles. If you have any questions about Invisalign, or how getting Invisalign through King Dental Group can help you get the perfect smile you have always wanted, please call us today! You can have the straight teeth you've always dreamed of if you are in the Santa Barbara area, including Goleta and Montecito.