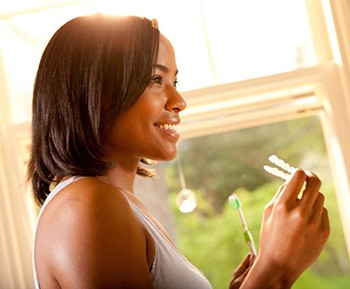 Many of our patients dream of having a straight, even smile free of crooked teeth. However, they feel weary about traditional braces. Traditional braces can impact your professional appearance and affect your self-confidence. They can also be a hassle to deal with – all those wires and brackets!
If you're interested in getting more even teeth without having to use metal braces, we can help you at King Dental Group. We are proud to offer Invisalign, a clear braces system that doesn't use wires or brackets. Instead, it's a professional straightening system that uses clear aligners to properly position your teeth. With Invisalign, you can finally attain your ideal smile.
Invisalign clear braces has a number of advantages:
Faster: With Invisalign clear braces, you can achieve gorgeous, straight teeth in a fraction of the time it takes traditional metal braces to give you straight teeth. Patients typically wear Invisalign for 9 months to a year, depending on their smile's current condition. Traditional braces usually take up to 2 years to straighten teeth. Straighten your teeth in no time with Invisalign!
Convenient Invisalign uses clear, removable BPA-free trays to straighten your teeth. This means that you can maintain your normal diet and oral hygiene routine. Eat the foods you want to when you want to. Just remove the trays. Traditional braces can make it difficult to floss and brush, but not Invisalign! With Invisalign, you can continue to brush and floss normally.

Comfortable: Each set of Invisalign trays are custom-made to fit the specifications of your unique mouth. This ensures a snug, comfortable fit. Each tooth is accounted for as the trays were molded to fit your teeth.
Beautiful: Invisalign is a clear braces system, so you shouldn't have to worry about people noticing your braces. Most people don't even realize that patients are wearing Invisalign! Invisalign trays should blend in seamlessly with your smile.
Invisalign is an excellent alternative orthodontic option. Finally, get the straight smile you've always wanted. If you have any questions about Invisalign, please call us today!