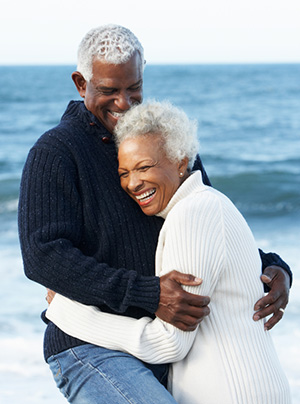 Missing teeth can make you feel self-conscious about your appearance. They can create unseemly gaps between your teeth, exposing your sensitive gums. It can be hard to feel comfortable with your smile when all you can think about are the holes in your grin.
It's time to restore your smile! At King Dental Group, we have a solution for you: dental implants. Dental implants are often considered one of the best ways to restore a tooth because they mimic the function of real teeth. With implant dentistry, we can permanently replace lost teeth, filling in the gaps of your smile.
Dental implants are made from special alloy posts that are placed in your jawbone. The alloy posts act as tooth roots, giving support and security to your jaw bone. These also provide an anchor for the rest of the dental implant, which includes an abutment connector and porcelain crown.
We will make sure your porcelain crown matches your surrounding teeth. It will be shaped and colored to blend in seamlessly with your smile. Your friends and family might not even realize your crown isn't a real tooth. Get a fuller smiler with dental implants!
Dental implants are incredibly versatile. Besides restoring missing teeth, dental implants can also be used for securing implant-supported dentures and other dental prosthetics.
If you require a dental implant, we can refer you to a specialist that will place your implant. Once your implant has been placed, we can restore your tooth by placing either a porcelain crown or other dental prosthetic over it.
If you have any questions about dental implants and what they can do for your smile, please contact us today! Dr. King and our staff are eager to help you achieve your dream smile.