Dental Implants
Tooth Implant Dentistry in Santa Barbara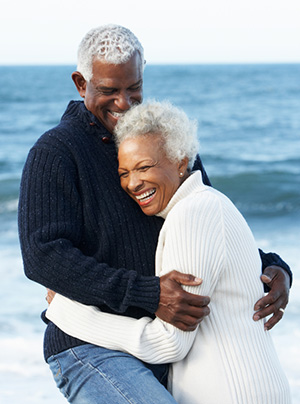 Have you ever lost a tooth and have been concerned about the gap it created in your smile? Does having a missing tooth make you feel like your smile is not as beautiful as it used to be? If your answer is yes to either of these questions, we have fantastic news for you.
At King Dental Group near Goleta, we are proud to provide state-of-the-art dental implant technology. With tooth implant dentistry, we can permanently replace lost teeth and fill those gaps that have been causing you anguish in Santa Barbara. Dental implants are special alloy posts that are placed in your jawbone–acting just like your natural tooth roots do. They also create a place for us to anchor a "new tooth," helping to restore the beauty of your smile.
Some of the benefits of dental implants include:
Dental implants act like natural tooth roots, not only providing a place for us to attach a porcelain crown (effectively creating a "new tooth"), but also helping strengthen your jaw. When you lose a toot, it removes support from your jawbone, which can sometimes contribute to jaw deterioration. A tooth implant can help restore strength to your jaw and keep it healthier.
Dental implants are used to attach porcelain crowns, helping to fill in gaps left by missing teeth. Combining a dental implant with a porcelain crown is a great way to permanently replace one tooth, but dental implants can be used to help fix even more issues. Dental implants can be used to secure implant supported dentures and other dental prosthetics. This provides a permanent solution for those who require dentures and don't want to have to worry about their dentures coming out, clicking, or slipping.
If you require a dental implant, a specialist will place your implant. Once your implant has been placed, we can restore your tooth implant by placing either a porcelain crown or other dental prosthetic in Santa Barbara.
Implant dentistry has been a wonderful advancement in dental technology and continues to benefit dental patients across the globe. If you have any questions about our tooth implant dentistry or about dental implants and what they can do for your smile, please contact us today! Dr. King wants to team up with you to restore your smile if you are in the Santa Barbara area, from Goleta to Montecito!